A Kiss Is a Lovely Trick
A kiss is a lovely trick, designed by nature, to stop words when speech becomes superfluous.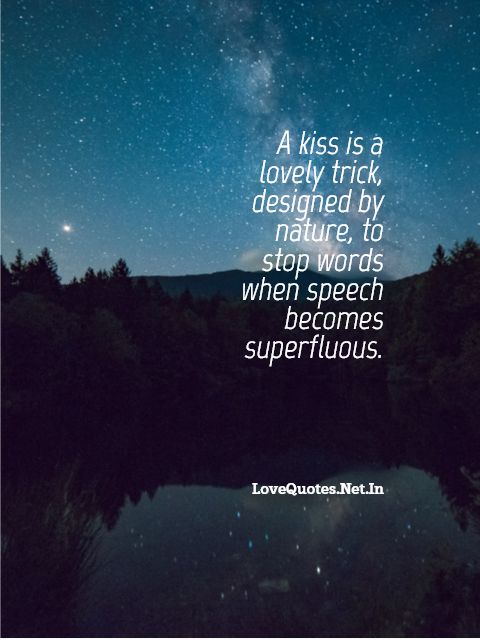 I like not only to be loved, but also to be told I am loved.
If you judge people, you have no time to love them.
My love as deep; the more I give to thee, The more I have, both are infinite.
Love doesn't make the world go round. Love is what makes the ride worthwhile.
It is better to love wisely, no doubt: but to love foolishly is better than not to be able to love at all.
Love is but the discovery of ourselves in others, and the delight in the recognition.
Come live in my heart and pay no rent.
Grow old with me! The best is yet to be.
I love her and that's the beginning of everything.
Love is an irresistible desire to be irresistibly desired.
The opposite of love it not hate; it's indifference.
Pure love is a willingness to give without a thought of receiving anything in return.
For it was not into my ear you whispered, but into my heart. It was not my lips you kissed, but my soul.
I almost wish we were butterflies and liv'd but three summer days – three such days with you I could fill with more delight than fifty common years could ever contain.
The hours I spend with you I look upon as sort of a perfumed garden, a dim twilight, and a fountain singing to it.You and you alone make me feel that I am alive. Other men it is said have seen angels, but I have seen thee and thou art enough.
We're born alone, we live alone, we die alone. Only through our love and friendship can we create the illusion for the moment that we're not alone.
The best and most beautiful things in this world cannot be seen or even heard, but must be felt with the heart.
I love you not because of who you are, but because of who I am when I am with you.
The truth is, everyone is going to hurt you. You just got to find the ones worth suffering for.
Be yourself; everyone else is already taken.
Be who you are and say what you feel, because those who mind don't matter, and those who matter don't mind.
If you tell the truth, you don't have to remember anything.