I Will Love You
You are always in my dreams. When I wake up you're my first thought. Even when we are not together, trust me, I will love you. My heart is always yours.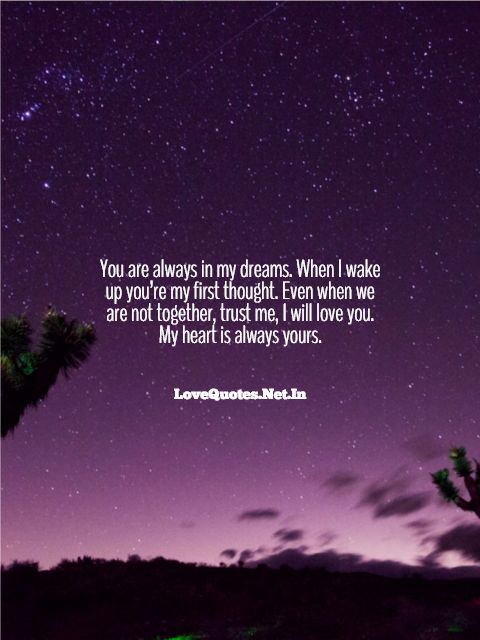 I never thought that it would come to this. At first it was all just a joke, then all of a sudden I fell in love.
I promised myself that I will let somebody hurt my heart again. When I met you, I knew I was ready to get hurt again.
There is no one who makes you smile without a reason, except the person who is always on your mind.
Love is all you will need no matter what.
I don't care what they say. I don't care where you're from. As long as you love me and I love you That is all that matters.
I'll take this chance to tell you how much I love you. You mean the world to me.
You're my sun shining on me everyday. You're my night that hugs and calms me before sleep. I Love You.
Even if you're the reason why I am moody and sad now, you're still the reason why I laugh and smile, too.
I will do anything to work on this relationship, because you are so important to me. I can't lose you. I love you baby.
The person who you always think of is the person who gives you comfort when you are really down.
You put the smile to my lips and make me laugh everyday and I love you for giving that to me.
Thank you for being a blessing to me. I am happy everyday with you.
You never lose by loving…You always lose by holding back.
You bring the colors back in my world, you came along and stayed by my side. The sun did shine and now there's color everywhere.
Just one look at you takes my breath away. Just one touch and you make me feel better. Just one smile and you brighten up my day. Stay that way and never go away.
I liked you when I saw you. I loved you when I talked to you. I adored you when I fell in love with you… Love you always.
You're my inspiration, motivation, and reason to wake up everyday. You make me so happy, if I lost you I would feel so unhappy. You are the reason I smile. You're the person I run to and tell everything. You make me feel complete. You're important to me and I couldn't imagine living life without you.
When I dream, I dream of you. Maybe one day, dreams will come true. Because, I really love you.