Losing Someone You Love Is Painful
Losing someone you love is painful, but if you are patient life will bring someone much better for you.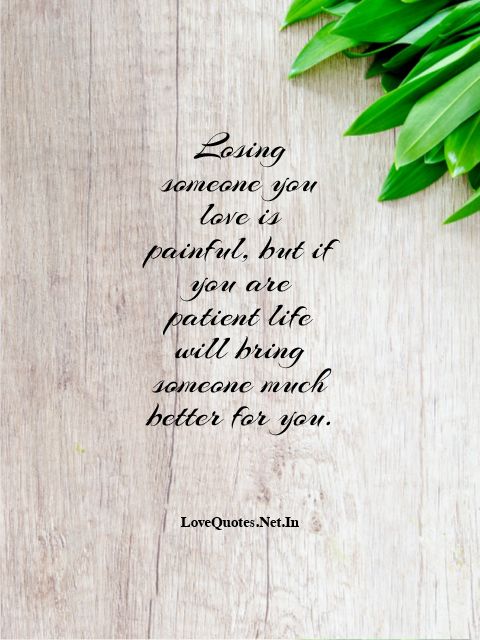 No matter how pretty your face is, if you have an ugly heart, no one is going to love you.
There is never a right time to do the wrong thing.
I'd rather be single and alone than to be with someone who's already committed.
Don't assume too much. If you expect less, you might hurt less.
Give a chance to the one who waits for you instead of to the person who hurt you.
I didn't change. I just stopped acting the way you want me to be.
Never let the fear of striking out keep you from finding the one person who is right for you.
To change is never easy, but there comes a time that change is needed.
Take time to connect with people who inspires you, then try to be a person who inspires others to connect with you.
Forget those who made you cry, but never forget the ones who make you smile.
Christmas is always best if you can share it with the ones you love. Sharing the blessings and giving thanks to each other.
If you want to see the person that is right for you, start closing your eyes to the people who are wrong for you.
Don't cry because it's over, smile because it happened.
You've gotta dance like there's nobody watching, Love like you'll never be hurt, Sing like there's nobody listening, And live like it's heaven on earth.
Sometimes in life you become so busy that you forget to thank the people who have been so good to you…so Thank You!
A smile is my favorite make up. Love is all the blusher I need. Confidence makes my lips more kissable than the prettiest lipstick.
There are a lot of things that will make you happy. Don't let one person be the reason you're sad.
Don't be sad if he leaves you when there are so many people who love you.
Few understand me. Few know the real me. I am glad that you are one of those few.