Love Is Not a Test
Love is not a test we pass or fail. It is not a game to play. Love is like swimming an ocean, all we can do is keep going.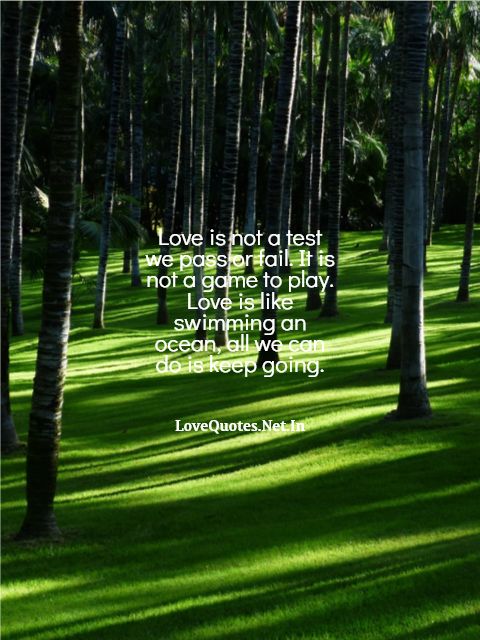 Learn to appreciate the people who care for you and love the person who loves you.
Sometimes the last person you expect is the one who is the right one for you.
A person will come in your life to change you in many ways. They will make you feel emotions you have never felt before.
I love you for being you and not what other people say. No one knows you better than me.
True love comes unexpectedly.
You are my pearl and I will treasure you 'till I die.
To love another person is to see the face of GOD.
Looking for a suitable partner is like looking for a healthy food. It doesn't need to be delicious as long as it's good for the heart.
There will come a time in our life that a person will come and love us more than we can ever give to them. When the time and person come don't ever let them go.
I don't see any reason to hurt you, all I see are reasons to love you.
Just because one man broke your heart doesn't mean that you can't love another man with all the little bitty pieces.
Do not ask for an explanation if you do not intend to believe and do not love a person if you do not intend to trust.
If you love someone show it before it's to late.
Love is never ending.
Every problem, argument, and misunderstanding we've gone through only makes our relationship stronger and stronger. I love you!!
Today I wake up again and I thank God for it, because every morning God lets me wake up is another precious day to spend with you.
All that I am and all that I ever want to be is there in your arms. To my heart you hold the key.
We met as friends and feelings started to grow. Even though there is distance between us our love still grows. I love you for the man you are for the way you make me feel. Your smile lights up my world.
Do you ever put your arms out and spin and spin and spin? Well that's what love is like. Everything around you tells you to stop before you fall, but you just keep going.
You always give me strength when I am low, sad, and want to give up. Thank you For loving me.
I am madly in love with this guy and he loves me too. The only thing I can think about is how to make him the happiest man.
A part of loving someone is realizing you trust the person!