Love Is When You Look Into Someone's Eyes
Love is when you look into someone's eyes and realize that you are seeing someone that you want to spend the rest of your life with.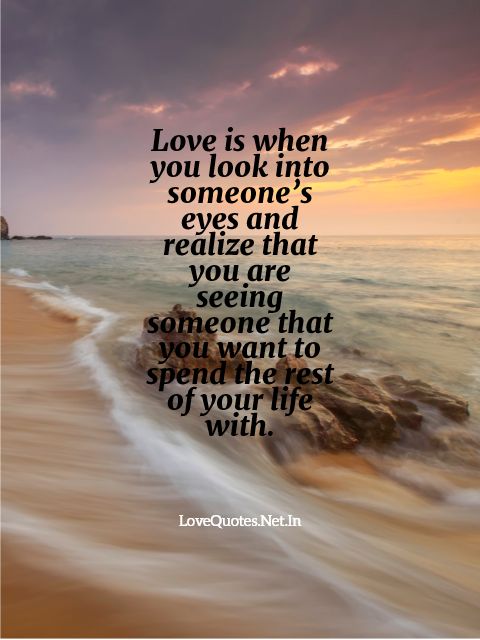 All I wanna do is to be with you everyday and for the rest of my life.
It is good to take care of a relationship even if you know is not perfect, you two both know the true meaning of being contented.
I Love you not only yesterday, today, tomorrow but everyday and forever.
You don't know how happy that you make me every day. You inspire me in everything. With you by my side, I have more than enough.
I don't need all of the things in the world. All I need is you, living a simple life, being happy and facing the future together.
The happiest thing happened to me. Having you for the rest my life is truly heaven sent.
Remember when we made a promise to each other and made plans for the future together. I am happy that we are fulfilling those one by one. We are together Forever.
Thank you for making me happy everyday. Thank you for always putting a smile in my face. Thank you for staying with me now and for the rest of our lives.
I love you. I'm so happy that I will share my life with you forever.
I am so blessed that I have a man like my husband in my life. A man that protects me and will take care of me. My husband whom I will grow old with.
I want to be the one who inspires you,the one who raises you up when you are down. I want to be the reason for your smile, So that every time you look at me you'll be proud to have me in your life.
I am so blessed to have a life partner like you.
My Love for you will never change, I will love you until we grow old.
One of the best things you can do with you're feet is to walk to the altar with me.