Loving You Is Like a Soft Breeze
Loving you is like a soft breeze flowing all around me, kissing you is like a sweet delicious sensation on my lips hugging you is like a  thousand soft feathers holding me tight and then I wake up and realize that reality is you don't even know I exist.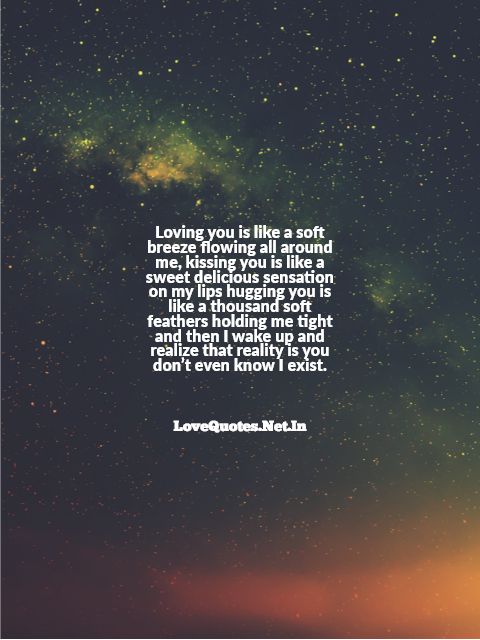 You're the reason why I laugh, I breathe and love.
It doesn't matter how far we are, our love is still there alive. Every time I see the moon I feel him near me. So no matter how far we are my Love for him is real.
Though we may be separated by an ocean, my love for you is as deep, as wide as ANY ocean. You are my light, my better half, my one and done. I will stand with you always.
Absence stole the glory of your shadows. To hug and gaze at you was all wanted. But after your betrayal, the miles speak of unlimited distance.
I miss you so much, missing you is only half the story. Hope the other half is you miss me too.
Missing makes us more care about the person we love and the each moment will bring you to the good memories with them.
Just because we can't be together, doesn't  mean I won't  love you.
No matter how far away from me you may be, you will be closer to me than you think because your always in my heart.
If the only place where I could see you was in my dreams, I better to sleep forever.
I don't know what would happen if you were never in my life, just by the thought of being away from you makes me want to know why aren't I with.
Among the stars that shine so bright, I know that you are there, at an amazing height, Although your gone, I feel you, you're love is all so strong.
Every relationship has a challenge but if there is a distance that its breaking u up never let it go like that think it twice the distance is just a test to see how far love can go and how long it can last.
My eyes are crying day by day, My heart is getting full of pain, A lot of things in my heart i want to say, But i always stop just because you never understand and have gone far away.
A cylinder is used to measure volume, rain gauge used to measure rainfall, barometer used to measure wind but nothing can be used to measure the love i have for you.
We only touch to feel, we only call to hear from, we only part to meet again.
As a part of you has grown in me, Together forever we shall be, Never mind the distance because all u need is patience.
Don't let the miles between us keep our love apart, just listen close and you will hear the beating of my heart.
No matter the distance, you are never far from me because your heart and mine have been paired together from heaven.
Closeness isn't always measured in distance; friends can live many miles away, but the bond of love formed long ago always keeps them close at heart.