Sometimes Loving Someone Is Not Enough
Sometimes loving someone is not enough, or even if you know you're important to them. Before everything, you should know the difference between being loved and being important.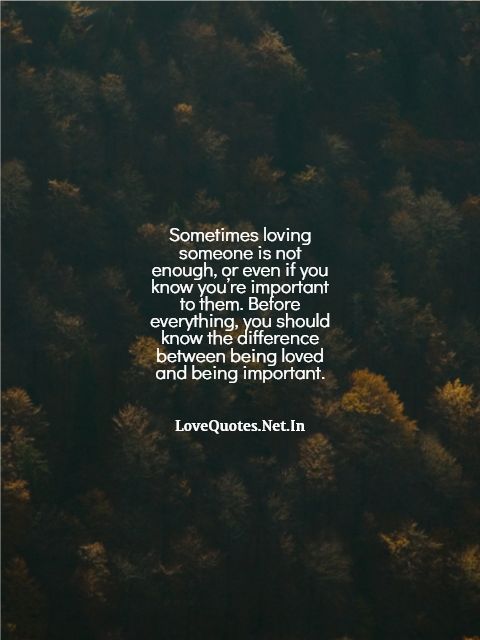 Without you I'm weak, desperate, hopeless, and confused. But with you, even in storms and hurricanes, I'm strong enough to carry on.
Thank you for making me laugh, for making my day brighter, happier and lighter. You make my life worth living, and I'm happy sharing my life with you.
You don't have to be sad if someone leaves you. You should always bear in mind that everything happens for a reason. Please don't waste your love on the wrong person. There's always a perfect person for you that will suits your personality and everything.
Meeting you was not an accident, it was fate because you're contagious.
It's a requirement in every relationship to suffer and hurt. You can't skip that. Those fights, those chances that you break up and make up. After that you will proudly say we've been though many difficulties yet we faced it and we are still here.
What is love? Love is friendship. If you can't be my best friend, then you can't be my love.
If it was possible to live without air to breathe, then for your love I would stop.
Being away from you is like losing parts of time. Only the memories of our past times and thoughts of our future plans make up for the lost time.
One word is not enough to explain how much I love you, but the word "YOU" is enough to explain why I am in love.
You made me believe things I should not. You showed me the things I believe do not exists. You enchanted me with simple thoughts. You made me loved you the most.
Love is not found in the face, the love is found in your good works.
A real man makes sure his woman knows she's the one and only.
I thought of you today, but that is nothing new. I thought about you yesterday, and days before that too. I think of you in silence, I often speak your name. All I have are memories and a picture in a frame. Your memory is a keepsake, from which I'll never part. God has you in His arms. I have you in my heart.
Face down in a pile of sorrow, eyes wide with a bottle of envy, arms open like a window on a hot summers day, love as strong as titanium, nothing can pull you away from me. I have a death grip on this wheel of love, together we shall make it last.