Sorrow Is How We Learn To Love
"Sorrow is how we learn to love. Your heart isn't breaking. It hurts because it's getting larger. The larger it gets, the more love it holds."
– Rita Mae Brown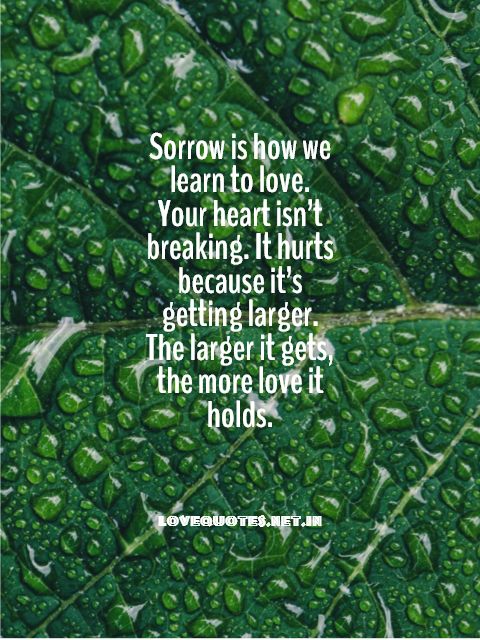 "It was love at first sight, at last sight, at ever and ever sight."
– Vladimir Nabokov
"If pain must come, may it come quickly. Because I have a life to live, and I need to live it in the best way possible. If he has to make a choice, may he make it now. Then I will either wait for him or forget him."
– Paulo Coelho
"Was it hard?" I ask. Letting go?"
"I fell in love with her when we were together, then fell deeper in love with her in the years we were apart."
– Nicholas Sparks
"Never close your lips to those whom you have already opened your heart."
– Charles Dickens
"Then I realize what it is. It's him. Something about him makes me feel like I am about to fall. Or turn to liquid. Or burst into flames."
– Veronica Roth
"The saddest people I've ever met in life are the ones who don't care deeply about anything at all. Passion and satisfaction go hand in hand, and without them, any happiness is only temporary, because there's nothing to make it last."
– Nicholas Sparks
"What is hell? I maintain that it is the suffering of being unable to love."
– Fyodor Dostoyevsky
"How do you spell 'love'?" – Piglet. "You don't spell it…you feel it." – Pooh"
– A.A. Milne
"He does something to me, that boy. Every time. It's his only detriment. He steps on my heart. He makes me cry."
– Markus Zusak
"Peeta, how come I never know when you're having a nightmare?" I say.
"I don't know. I don't think I cry out or thrash around or anything. I just come to, paralyzed with terror," he says.
"You should wake me," I say, thinking about how I can interrupt his sleep two or three times on a bad night. About how long it can take to calm me down.
"It's not necessary. My nightmares are usually about losing you," he says. "I'm okay once I realize you're here."
– Suzanne Collins
"I crave your mouth, your voice, your hair.
Silent and starving, I prowl through the streets.
Bread does not nourish me, dawn disrupts me, all day
I hunt for the liquid measure of your steps.
I hunger for your sleek laugh,
your hands the color of a savage harvest,
hunger for the pale stones of your fingernails,
I want to eat your skin like a whole almond.
I want to eat the sunbeam flaring in your lovely body,
the sovereign nose of your arrogant face,
I want to eat the fleeting shade of your lashes,
and I pace around hungry, sniffing the twilight,
hunting for you, for your hot heart,
Like a puma in the barrens of Quitratue."
– Pablo Neruda