When I Told You I Love You
When I told you I love you I didn't expect you to answer. I just wanted you to know. I just wanted to get it off my chest.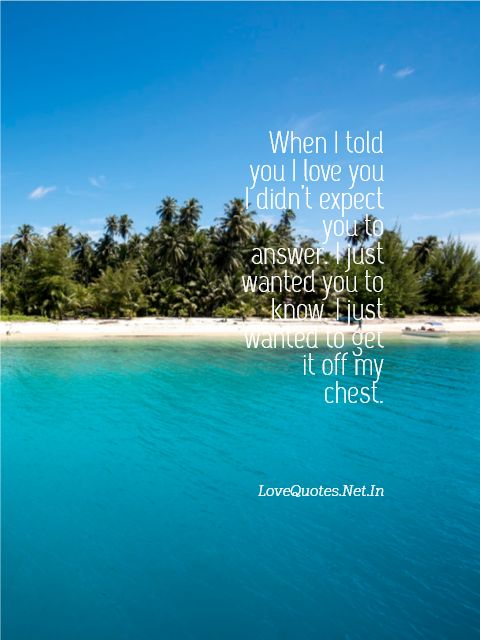 I may not be with you all the time but you are never out of my heart.
He may not be handsome but he's got good sense. He may not be the smartest but is confident enough to express himself. He may not be young but he smells so good. He may not be hot but sweet and honest enough to make a woman fall.
Love will find you when the time is just right.
I know I can't have you now, but I'll wait.I know when the time is right, you will notice me and you will love me as much as I love you.
I hope that every time you smile and laugh the reason is me.
All my life I've been waiting for you. All my life I've dreamed of you. Now it's all come true. So happy that god finally give you to me.
Its not your job to change your man. It's your job to teach yourself to understand him.
Loving you is the only right thing I did in my life.
You don't have to take care of yourself anymore, I'm here to take care of you.
You are the greatest thing that ever came into my life and I won't let anyone take you away from me.
I will wait for you to love me, I will never get tired and I will always love you.
Every woman is different in her own way. All women are special. Real beauty comes from within from the right attitude and confidence.
You Got it all, even my heart. You are perfect to me.I will love you forever. Of all the people in the world, you chose me to love you. I'm lucky to have you to love.
If you make a man laugh, he likes you. But if you make a man cry, surely he loves you.
Not everyone will understand what I feel for you. It doesn't matter as long as you know my feelings towards you. I'm happy.
I may not be perfect for you but I know my love for you will fill up those imperfections. Thank you for sticking with me. Thank you for the love and caring. I'm looking forward to more months, years or even forever being with you.
I will always feel blessed for having you in my life. It has been years now and yet I still feel the same as the first time we were together. I'm still so in love with you.
You are like a candle. When you came, you brought light to my life.