You Are My One Great Love
You are my one great love. Thank you for coming into my life. I will never forget the day we first met.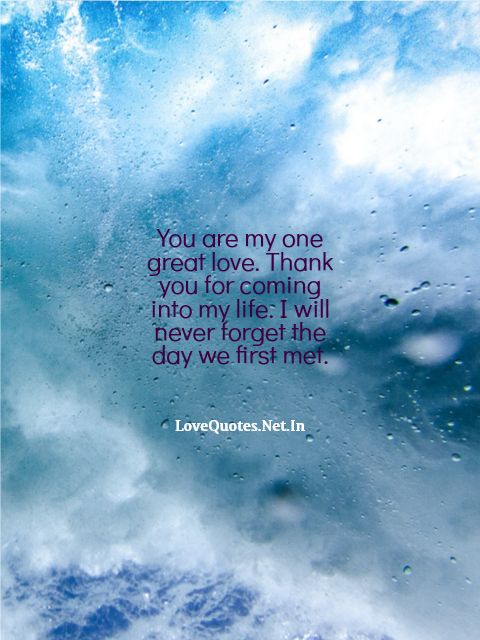 You complete me. You make me happy. You made me a better person. Having you by my side forever is all I want. I'm the luckiest person in the world because I have you.
I was born to be with you and you were born to be with me, too.Before I had to sleep to dream of you, Now I get to wake up to be with you.
Not everyone will like you because you just can't please everybody. I'm so lucky to have someone who likes me for me. I will live happily ever after.
I will treat you like a princess and I'm you're prince, just like in the fairytales. In the end, I want us to live happily ever after.
Everything might change in my life but never the love I feel for you!
I understand you, but not all the time. I really tried my best for you. I can be at your side, but not all the time. You are always in my heart.
As long as you're with me, I can bear it all because you are my strength.
I loved you, with a love more than love.
I just hope I can give you the whole world so that you'll know how important you are to me.
In my life, there is only one person I will love, cherish, treasure, share my life with. That person is you. I love you.
True love is not counting how many mistakes you made, or how many fight you been through. It's counting the days you are happy and treasuring the one you love.
If you are the ant of my life then I will never get tired of giving you all the sweetness you need.
My favorite thing to do is to sleep, because I love waking up with you here by my side.
True love stops the anger deep within when you see her cry and say she didn't mean it.
All I want is a simple life, Me being happy with you and you with me. To grow old with you and spend the rest of my life with you.
Love: It feels different, but it feels so right.
It is so romantic when you hold my hand, kiss my ear, and whisper the words I love you.