Best Quotes
Love is not only something you feel; it is something you do.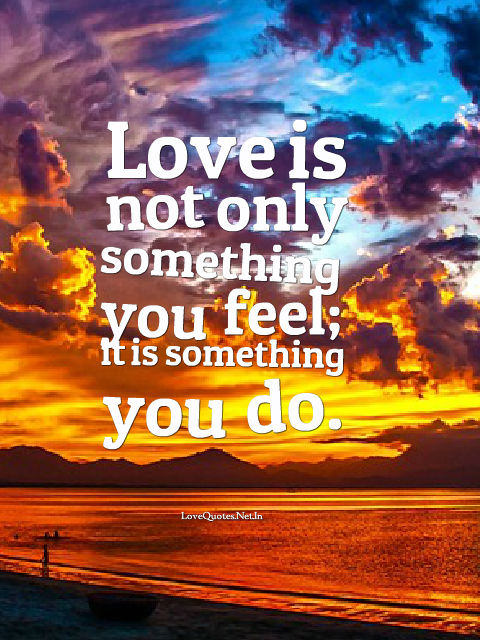 All, everything that I understand, I only understand because I love.
When you realize you want to spend the rest of your life with somebody, you want the rest of your life to start as soon as possible.
True love comes quietly, without banners or flashing lights. If you hear bells, get your ears checked.
Once you truly believe you're worthy of love, you will never settle for anyone's second best treatment.
Every person has to love at least one bad partner in their lives to be truly thankful for the right one.
When you trip over love, it is easy to get up. But when you fall in love, it is impossible to stand again.
We are most alive when we're in love.
It is not a lack of love, but a lack of friendship that makes unhappy marriages.
People must learn to hate, and if they can learn to hate, they can be taught to love.
Loving people live in a loving world. Hostile people live in a hostile world. Same world.
Love is like war: easy to begin but very hard to stop.
With love, one can live even without happiness.
I would rather spend one lifetime with you, than face all the ages of this world alone.
Love is what you've been through with somebody.
Darkness cannot drive out darkness: only light can do that. Hate cannot drive out hate: only love can do that.
The best proof of love is trust.
If you live to be a hundred, I want to live to be a hundred minus one day so I never have to live without you.
A woman knows the face of the man she loves as a sailor knows the open sea.
The heart wants what it wants. There's no logic to these things. You meet someone, and you fall in love and that's that.
Lots of people want to ride with you in the limo, but what you want is someone who will take the bus with you when the limo breaks down.
In order to be happy oneself it is necessary to make at least one other person happy.
For small creatures such as we the vastness is bearable only through love.
To love is nothing. To be loved is something. But to love and be loved, that's everything.
The love in your heart wasn't put there to stay. Love isn't love until you give it away.
A dream you dream alone is only a dream. A dream you dream together is reality.
Fortune and love favor the brave.
You don't love someone because they're perfect, you love them in spite of the fact that they're not.
The best and most beautiful things in this world cannot be seen or even heard, but must be felt with the heart.