Birthday Status
Shine brightly just like a star, As you are my star. May you be happy forever.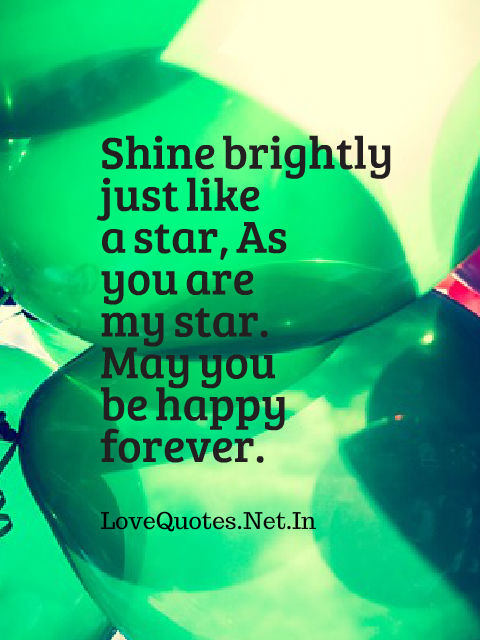 With each passing year, you become crazier, livelier and weirder. Just the way I like you. Keep going buddy.
A specially warm wish for the kind of day in which only the best things keep coming your way.
May you find pleasure everywhere, and may every moment today make you smile.
A simple celebration, a gathering of friends; here is wishing you great happiness, a joy that never ends.
It feels amazing to have a friend like you in my life. Have a happy and fun-filled Birthday, buddy!
May you be gifted with life's biggest joys and never-ending bliss. After all, you yourself are a gift to earth, so you deserve the best.
May your cake be sweet; your presents be expensive and your day be wonderful.
We fight; we make up; we share secrets over a coffee cup. Sometimes you're my friend, sometimes a guide; you are the person in whom I take pride.
All we need in life is good family and good friends. With you, I can't tell the difference.
It doesn't matter if we haven't seen each other since years, months or days. What is important is that you have made an impression in my heart, and you will always remain there!
Today is a perfect day to tell that you are nothing less than one of my family members!
May your day be full of happiness, love and excitement from sunrise to sunset.
Hope your Birthday gently breezes into your life all the choicest of things and all that your heart holds dear.
May this birthday bring all your wishes to come true.
Be like a candle which lightens up the dark. Be like a flower that fills life with color.
Happy Birthday, my angel! If I could, I would write it across the sky so that everyone could see it and know that you are truly loved!
Be a butterfly, spread your wings and whatever life brings, be true to you – be you – unique! Let the Lord guide you to the beauty inside you, and you'll find the joy that you seek.
They say you lose your memory as you grow older. I say 'forget about the past' and live life to the fullest today. Start with ice cream.
Let me tell you that with every passing year, you're becoming the most smart, wise, good looking, stunning and accomplished person that I have ever known! May you continue to put out the very best in your life.
Set the world on fire with your dreams and use the flame to light a birthday candle.
Not everyone is as lucky as me to be blessed with a friend like you. Thank you so much for coming into my life and standing by my side through thick and thin. I wish you get all that you truly deserve.
I have three wishes for you on your birthday. First, I wish that this Birthday teaches you something new and beautiful. Second, I wish that you have a day that you'll remember forever with a smile. And third, I wish that such days keep coming in every single day.