Don't Waste Your Time Playing Games In Love
Don't waste your time playing games in love or the time will come that you will be alone.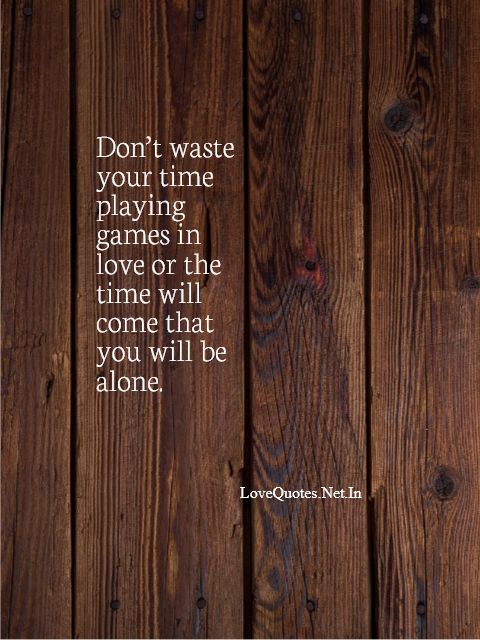 Now that you've gone I am left in the dark. You left me knowing I would end up like this. Thank you for never caring and always pretending.
Before you give up, ask yourself if you can live without him.
You promised me you'd never leave me, I believed you and let myself fall hard. When time passed and I didn't hear from you I realized it was a lie. You left without even saying goodbye.
People who are deceitful should not be given value.
I hope my tears are like the rain, so that if they stop the sun will shine and bring happiness.
If you've found a reason to walk away, never look back… Just keep walking. It's better to get lost moving forward than to get stuck looking back.
I'm not the right person for you to love. I'm the one who would give you pain. Rather, give your heart to someone who deserves it.
The one you want to forget is the one you always remember.
I've been loving you for so long, I need to know if you love me or not. If you don't love me, please don't confuse me anymore. I don't want to be hurt or cry. I've had enough of that in my life.
I will set you free if it's not me your heart is beating for.Don't worry if it's not me your dreaming of.If there is no love left,Then I will set you free.
Falling out of love is primarily a matter of forgetting how charming someone is.
Don't cry for someone who hurt you, they're not worth your tears. Maybe fate didn't give you what you wanted because you deserve better.
Love is like medicine but it does not work when the heart is being broken.
Letting go is the bravest thing to do. It's not easy. It's hard and painful and it takes a lot of courage.
That which is done out of love, is beyond wickedness and evil.
It's hard to fight for something that you know is wrong from the very beginning. We can be so stubborn that we force ourselves to believe that what is wrong is right. Sometimes you fight really hard even though you know you'll end up hurting yourself.
There's no more we, now it is just you and me.