Good Love Is One That Casts You Into The Wind
They say a good love is one that sits you down, gives you a drink of water, and pats you on top of the head. But I say a good love is one that casts you into the wind, sets you ablaze, makes you burn through the skies and ignite the night like a phoenix; the kind that cuts you loose like a wildfire and you can't stop running simply because you keep on burning everything that you touch! I say that's a good love; one that burns and flies, and you run with it!
– C. JoyBell C.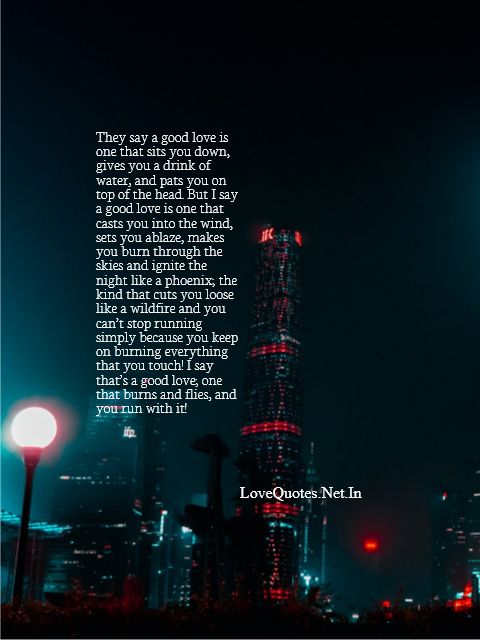 You can be the most beautiful person in the world and everybody sees light and rainbows when they look at you, but if you yourself don't know it, all of that doesn't even matter. Every second that you spend on doubting your worth, every moment that you use to criticize yourself; is a second of your life wasted, is a moment of your life thrown away. It's not like you have forever, so don't waste any of your seconds, don't throw even one of your moments away.
– C. JoyBell C.
In this world, it is too common for people to search for someone to lose themselves in. But I am already lost. I will look for someone to find myself in.
– C. JoyBell C.
The only person who can pull me down is myself, and I'm not going to let myself pull me down anymore.
– C. JoyBell C.
I have come to accept the feeling of not knowing where I am going. And I have trained myself to love it. Because it is only when we are suspended in mid-air with no landing in sight, that we force our wings to unravel and alas begin our flight. And as we fly, we still may not know where we are going to. But the miracle is in the unfolding of the wings. You may not know where you're going, but you know that so long as you spread your wings, the winds will carry you.
– C. JoyBell C.
Forgive the past. It is over. Learn from it and let go. People are constantly changing and growing. Do not cling to a limited, disconnected, negative image of a person in the past. See that person now. Your relationship is always alive and changing.
– Brian L. Weiss
The great thing to remember is that though our feelings come and go God's love for us does not.
– C. S. Lewis
Love is something more stern and splendid than mere kindness.
– C. S. Lewis
Love is not affectionate feeling, but a steady wish for the loved person's ultimate good as far as it can be obtained.
– C. S. Lewis
To love at all is to be vulnerable. Love anything and your heart will be wrung and possibly broken.If you want to make sure of keeping it intact you must give it to no one, not even an animal.Wrap it carefully round with hobbies and little luxuries; avoid all entanglements.Lock it up safe in the casket or coffin of your selfishness. But in that casket, safe, dark, motionless, airless, it will change.It will not be broken; it will become unbreakable, impenetrable, irredeemable. To love is to be vulnerable.
– C. S. Lewis
Affection is responsible for nine-tenths of whatever solid and durable happiness there is in our lives.
– C. S. Lewis