Great Quotes
Spend time with people who accept you for who you are. They're the ones worth keeping in your life.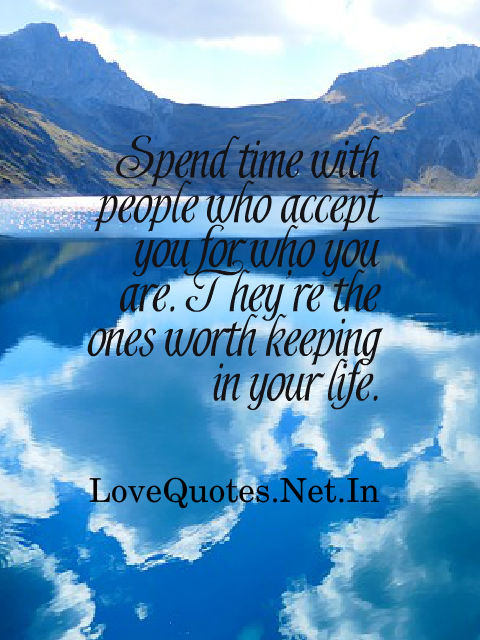 There is always something left to love.
Don't ever think I fell for you, or fell over you. I didn't fall in love; I rose in it.
It was brave. It was rare. It was love, and it was beautiful.
We need not think alike to love alike.
You live; you learn; you move on.
Love is the only gold.
Fortune and love favor the brave.
Love in its essence is spiritual fire.
Love, and you shall be loved.
We love because it's the only true adventure.
Love is not finding someone to live with. It's finding someone you can't live without.
Love is friendship set on fire.
Always treat people with love and respect, because one day, when you're old – your looks will fade and all you will have is your pure soul.
We loved with a love that was more than love.
When you love someone all your saved up, wishes start coming out.
What is love? It is the morning and the evening star.
Without love, we are like birds with broken wings.
Love is to love someone for who they are, who they were, and who they will be.
We are most alive when we're in love.
Life's a game made for everyone, and love is the prize.
Love is so unpredictable. That's what makes it so great.
Come live in my heart and pay no rent.
When you know my love, my love will warm you.
Traveling in the company of those we love is home in motion.
Love me like you'll never see me again.
With the power of love; our two hearts can enlighten the whole world.
Love is the only force capable of transforming an enemy to a friend.
Love is trembling happiness.
Being in love, I find myself smiling for no reason at all.
May you live as long as you wish and love as long as you live.
Love is the magician that pulls man out of his own hat.
Love heals scars love left.
When love is at its best, one loves so much that he cannot forget.
I love you not only for what you are, but for what I am when I am with you.
If you're smart, you care. And if you care, you love.
Love is a combination of care, commitment, knowledge, responsibility, respect and trust.