I Love You Quotes For Him
A hundred hearts would be too few to carry all my love for you.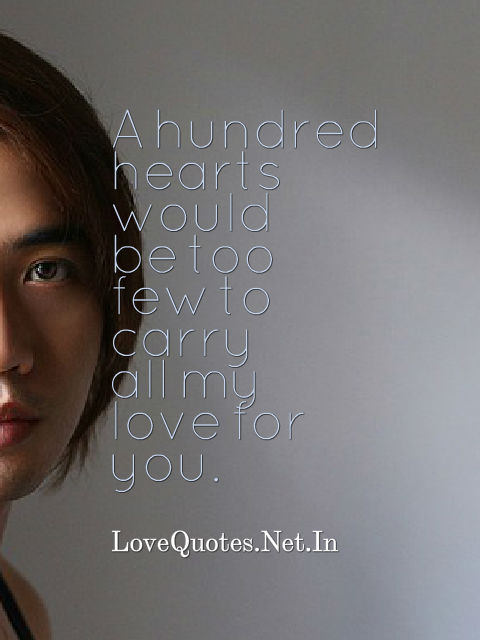 I love you, and I will love you until I die, and if there's a life after that, I'll love you then.
I love you, and I don't want to lose you. Because my life has been better since the day, I found out.
I loved you yesterday, love you still, always have, always will.
I have died every day waiting for you darling, don't be afraid I have loved you for a thousand years I'll love you for a thousand more.
I love you so, But why I love you; I'll never know.
I love you. I am at rest with you. I have come home.
When I saw you, I was afraid to meet you. When I met you, I was afraid to kiss you. When I kissed you, I was afraid to love you. Now that I love you, I am afraid to lose you.
I love you because you're AWESOME just like me!
You have bewitched me, body and soul, and I love … I love … I love you. I never wish to be parted from you from this day on.
I swear I couldn't love you more than I do right now, and yet I know I will tomorrow. But I love you, I'm totally and completely in love with you, and I don't care if you think it's too late. I'm telling you anyway.
You are my best friend, my human diary, and my other half. You mean the world to me, and I love you.
I love you without knowing how, or when, or from where.  I love you straightforwardly, without complexities or pride; so I love you because I know no other way.
There isn't one person in the world that I want more than I want you.
For you see, each day I love you more, today more than yesterday and less than tomorrow.
I love you, not only for what you are, but for what I am when I am with you.
I love you, with no beginning, no end. I love you as you have become an extra necessary organ in my body. I love you as only a girl could love a boy. Without fear. Without expectations. Wanting nothing in return, except that you allow me to keep you here in my heart, that I may always know your strength, your eyes, and your spirit that gave me freedom and let me fly.
I've never fallen in love right off the bat. I get scared to say I love you too soon because it means so much. It means you're not seeing an end to things.