I Will Always Love You
Sometimes I will argue with you. Sometimes I will ignore you. Maybe I will hurt you. Please always remember that you are important in my life and I will always love you.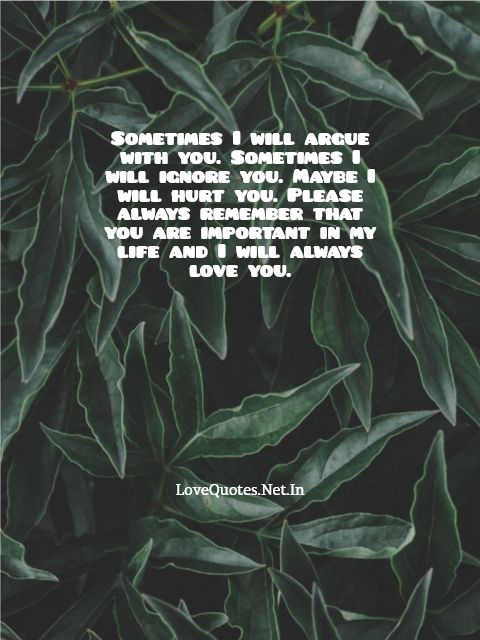 I love you not because you are perfect, but because I accept everything about you, including your imperfections.
Its hard to love someone who's in love with someone else, but it's painful to love someone you thought was in love with you.
I am not mad at you, I am mad at myself. You're the person I love the most and that's why I'm hurt.
You don't have to ask him if he really loves you. It will show in the way he treats you.
I don't know why you are always busy when I ask you out but you are always free for your friends.
I don't want to lose the most important part of my life and that is you.
Being with you is the most important part of my life. That is why I don't want to say goodbye.
Nobody knows I'm sad because they're used to seeing me happy.
How can I start a new life if my whole world ends without you.
I know that you love me, I am just afraid that in the end you will just leave me.
Sometimes, saying "trust me" is not enough.
I didn't change. I am not avoiding you. I just value myself more than you do.
The most important person in your life is the person who can hurt you the most.
I will never stop hoping that you will notice me and, maybe, fall in love with me too.
What's the use of trust if every doubt turns out to be true.
It really hurts to be in a relationship with someone who doesn't care, where you're the only one who is devoted.
If there was one thing I could change in the past, it would be the day that I met you. I would change it so that I could avoid you.
Sometimes, the person who you ignore turns out to be the person who values you most.
I could lose all the thing in the world except my heart, because there you always stay.
Sometimes they realize that they love you after you have given up.
It's easier to heal a wounded body than to heal a wounded heart.
I love you, but you can't feel it because you love someone else more.
Just let me to love you as long as I can, because the time will come that my heart will give up.
If you really love me, you will take care of me and never let me walk away.
Sometimes the person you love the most is the one person who doesn't know why you hurt.