Love Breakup Quotes
Don't cry when the sun is gone because the tears won't let you see the stars.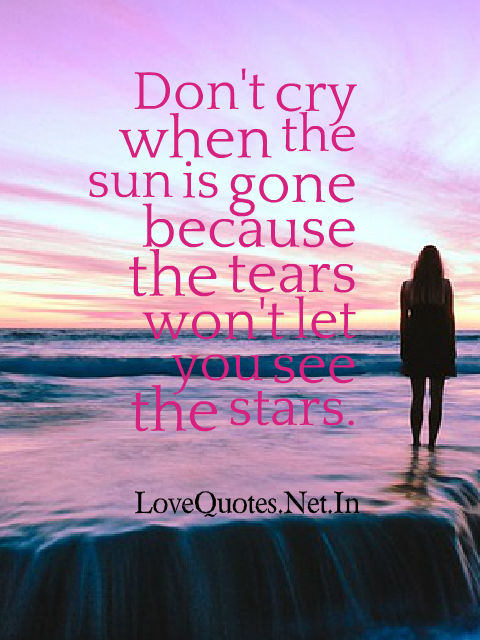 When you break up, your whole identity is shattered. It's like death.
Love is unconditional. Relationships are not.
I don't hate you for not loving me anymore, but I hate myself for still loving you.
Patience is the key for getting over a breakup. That, and trailing off your interaction after the breakup.
Nothing in the universe can stop you from letting go and starting over.
Cheating and lying aren't struggles. They're reasons to break up.
The hottest love has the coldest end.
You can love someone so much…But you can never love people as much as you can miss them.
Life is truly known only to those who suffer, lose, endure adversity and stumble from defeat to defeat.
To be rejected by someone doesn't mean you should also reject yourself, or that you should think of yourself as a lesser person.
I will not try to convince you to love me, to respect me, to commit to me. I deserve better than that.
Pain is inevitable. Suffering is optional.
Life always waits for some crisis to occur before revealing itself at its most brilliant.
The heart was made to be broken.
No matter how hard your heart is broken, the world doesn't stop for your grief.
We must be willing to let go of the life we've planned, so as to have the life that is waiting for us.
Hold on to the thought that no emotion lasts forever, no matter how wonderful or how terrible the emotion may be. The tears may last a little longer than you would like, but it will get better.
When you leave weary of me without a work, I shall gently let you go.
The most beautiful people we have known are those who have known defeat, known suffering, known struggle, known loss, and have found their way out of the depths.
If someone doesn't care about losing you: Move on. There are thousands of people that will die and kill to not lose you.
You can't connect the dots looking forward; you can only connect them looking backwards. So you have to trust that the dots will somehow connect in your future.
After a breakup, it takes a couple of weeks for the fog to settle, but it's always a period of self-priority and growth. Life presents you with so many decisions. A lot of times, they're right in front of your face, and they're really difficult, but we must make them.