Love Doesn't Just Sit There
"Love doesn't just sit there, like a stone, it has to be made, like bread; remade all the time, made new."
– Ursula K. Le Guin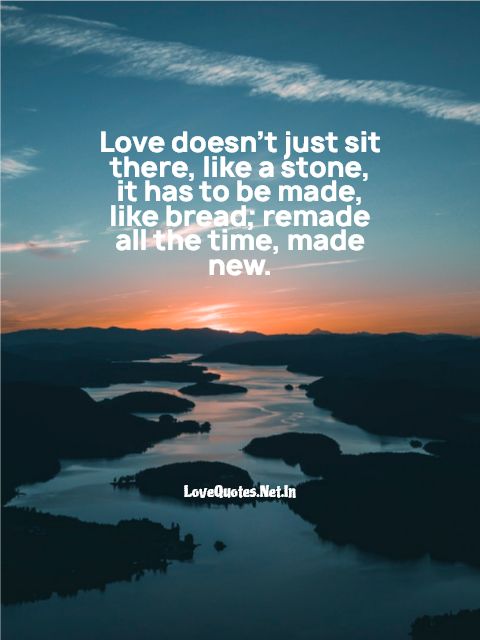 "The world is indeed full of peril, and in it there are many dark places; but still there is much that is fair, and though in all lands love is now mingled with grief, it grows perhaps the greater."
– J.R.R. Tolkien
"I have decided to stick to love…Hate is too great a burden to bear."
– Martin Luther King Jr
"How many slams in an old screen door? Depends how loud you shut it. How many slices in a bread? Depends how thin you cut it. How much good inside a day? Depends how good you live 'em. How much love inside a friend? Depends how much you give 'em."
– Shel Silverstein
"I love you. Remember. They cannot take it"
– Lauren Oliver
"Do you think I'm pretty? I think you're beautiful Beautiful? You are so beautiful, it hurts sometimes."
– Richelle Mead
"I have something I need to tell you," he says. I run my fingers along the tendons in his hands and look back at him. "I might be in love with you." He smiles a little. "I'm waiting until I'm sure to tell you, though."
"That's sensible of you," I say, smiling too. "We should find some paper so you can make a list or a chart or something." I feel his laughter against my side, his nose sliding along my jaw, his lips pressing my ear.
"Maybe I'm already sure," he says, "and I just don't want to frighten you." I laugh a little. "Then you should know better." "Fine," he says. "Then I love you."
– Veronica Roth
"We're all seeking that special person who is right for us. But if you've been through enough relationships, you begin to suspect there's no right person, just different flavors of wrong. Why is this? Because you yourself are wrong in some way, and you seek out partners who are wrong in some complementary way. But it takes a lot of living to grow fully into your own wrongness. And it isn't until you finally run up against your deepest demons, your unsolvable problems—the ones that make you truly who you are—that we're ready to find a lifelong mate. Only then do you finally know what you're looking for. You're looking for the wrong person. But not just any wrong person: the right wrong person—someone you lovingly gaze upon and think, "This is the problem I want to have."
I will find that special person who is wrong for me in just the right way.
Let our scars fall in love."
– Andrew Boyd