Love Is An Impossible Feeling
Love is an impossible feeling. Everyone can't understand love. But Love increases when you are away from your love.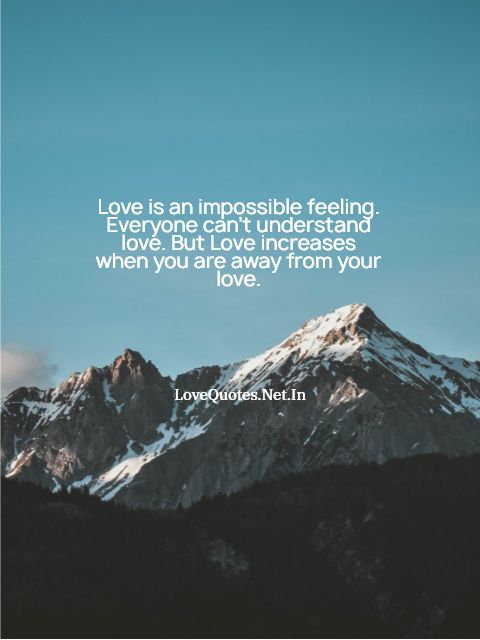 Though you're not hereI still love you. Will be waiting for you until the time is right for us to be together again.
If you're in a long distance relationship, Don't measure the distance instead measure the love.
Loving a girl is like courting her everyday.
To us, distance does not mean separation but it makes us to be together in spirit.
I Miss the feeling of your warm lips, that ticklish sensation when you hold me. Fast beating of my heart every time I see you..And I cant wait to be with you again.
So close, no matter how far.
The farthest distance is when she is just beside you but you can't tell her you love her.
Our long distance relationship is killing me softly. I can't wait till I see you again.
Distance between two heart can always grow stronger.
Love will remain if you are true to each other even if it has to be from a distance.
I want to cry because I miss you. I want to hug you and touch your face. What can I do, you're too far away. I just hope that the time passes fast 'til I can hold you again.
Long distance relationship would last. Love remains…as you go along..
Though were miles apart, i will love you more everyday.. till I can be with you, and me in your arms again.
Distance may keep us apart but i will not stop loving you.
My love, yet another day with you in my heart, on my mind & out of my reach.
Its like your far away from me and i need you with me and you act like your like 1000's miles apart from me but your right there every day.
I May Not even tell you how important you are to me, I may not even make you feel how important you are, I may not even always there for you.. But every night before I sleep I pray hoping that there is something or anything I'd do to make you happy even though I'm not there.
No one can promise that they will never hurt you, because one at a time or another they will, the real promise is, if the time you spent together will be worth the pain in the end.