Love is More Than Trust of Heart
Love is more than trust of heart; it is trust of your very own soul.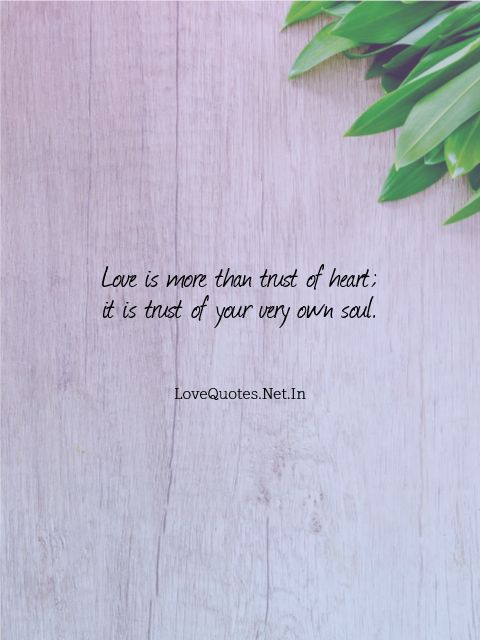 When you look back in your life to find out moments when you have truly lived, you will discover they were the moments when you have done things in the spirit of love.
I will Love you with courage, sincerity, and self-respect, and even if you change. I will love you from the beginning until the end.
Sometimes it's difficult to love someone since you're so afraid of losing them.
Distance between two lovers is not a barrier rather a beautiful reminder of just how strong a true love can be.
Love always comes from the heart and not the mind.
Everybody confesses that love is wonderful and necessary, yet no one accepts on just what it is.
The future of love is that it always appears like too little or too much.
There is an important difference between love and friendship. While the former delights in extremes and opposites, the latter demands equality.
Embrace the things to which fate unites you, and love the persons with whom fate brings you together, but do so with all your heart.
Listen to her carefully, Notice the seasons change together, Hold her hands, Give her more hugs, Watch sunsets together, Take long walks, Dance with her,
Picnics together, Daydream together, Laugh together. This is what a love is all about!
Patience with God is faith, Having patience with yourself is hope, Having patience with her is love.
Once you love, you never take it back, can never undo it. What you felt might have changed, fluctuated slightly, yet still remains love.
Love is like learning the piano. First, you need to learn to play by the rules, then you must ignore the rules and play from your heart.
To love someone means to see him as if a God has planned him for you.
Heaven is the perfect definition of love.
Bad men are afraid of God and good men from love.
When you are near, you take my breath away, and I find no voice to tell you how much I love you.
The sign of true love is to see how he respect your presence and miss your absence.
Every minute spent without you feels like an endlessness walk.