Love is Our True Destiny
Love is our true destiny. We do not find the meaning of life by ourselves alone – we find it with another.
– Thomas Merton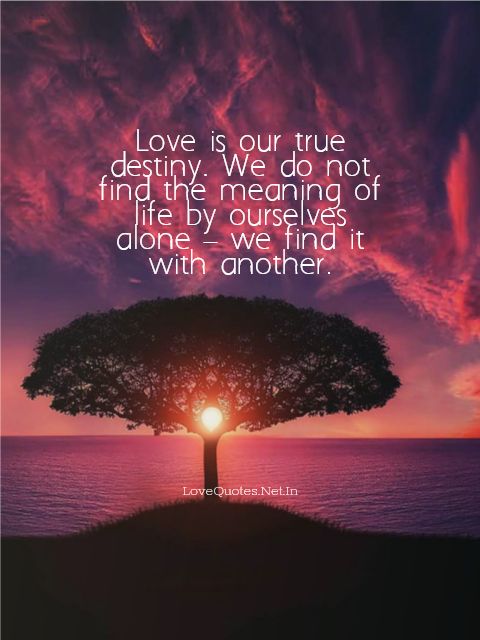 Experts on romance say for a happy marriage there has to be more than a passionate love. For a lasting union, they insist, there must be a genuine liking for each other. Which, in my book, is a good definition for friendship.
– Marilyn Monroe
The story of life is quicker then the blink of an eye, the story of love is hello, goodbye.
– Jimi Hendrix
A wedding anniversary is the celebration of love, trust, partnership, tolerance and tenacity. The order varies for any given year.
– Paul Sweeney
The most important thing a father can do for his children is to love their mother.
– Theodore Hesburgh
Love is never lost. If not reciprocated, it will flow back and soften and purify the heart.
– Washington Irving
It is not a lack of love, but a lack of friendship that makes unhappy marriages.
– Friedrich Nietzsche
As love without esteem is capricious and volatile; esteem without love is languid and cold.
– Jonathan Swift
Love. Fall in love and stay in love. Write only what you love, and love what you write. The key word is love. You have to get up in the morning and write something you love, something to live for.
– Ray Bradbury
Find joy in everything you choose to do. Every job, relationship, home… it's your responsibility to love it, or change it.
– Chuck Palahniuk
Let us dream of tomorrow where we can truly love from the soul, and know love as the ultimate truth at the heart of all creation.
– Michael Jackson
Unconditional love really exists in each of us. It is part of our deep inner being. It is not so much an active emotion as a state of being. It's not 'I love you' for this or that reason, not 'I love you if you love me.' It's love for no reason, love without an object.
– Ram Dass
Love is friendship that has caught fire. It is quiet understanding, mutual confidence, sharing and forgiving. It is loyalty through good and bad times. It settles for less than perfection and makes allowances for human weaknesses.
– Ann Landers
You can never control who you fall in love with, even when you're in the most sad, confused time of your life. You don't fall in love with people because they're fun. It just happens.
– Kirsten Dunst
I love women, but I feel like you can't trust some of them. Some of them are liars, you know? Like I was in the park and I met this girl, she was cute and she had a dog. And I went up to her, we started talking. She told me her dog's name. Then I said, 'Does he bite?' She said, 'No.' And I said, 'Oh yeah? Then how does he eat?' Liar.
– Demetri Martin
What light is to the eyes – what air is to the lungs – what love is to the heart, liberty is to the soul of man.
– Robert Green Ingersoll
Never forget the three powerful resources you always have available to you: love, prayer, and forgiveness.
– H. Jackson Brown, Jr.
We must develop and maintain the capacity to forgive. He who is devoid of the power to forgive is devoid of the power to love. There is some good in the worst of us and some evil in the best of us. When we discover this, we are less prone to hate our enemies.
– Martin Luther King, Jr.
Don't let fear or insecurity stop you from trying new things. Believe in yourself. Do what you love. And most importantly, be kind to others, even if you don't like them.
– Stacy London
The love of liberty is the love of others; the love of power is the love of ourselves.
– William Hazlitt
Music is love, love is music, music is life, and I love my life. Thank you and good night.
– A. J. McLean
I see when men love women. They give them but a little of their lives. But women when they love give everything.
– Oscar Wilde