Love Message
You never stop loving someone. You just learn to live without them.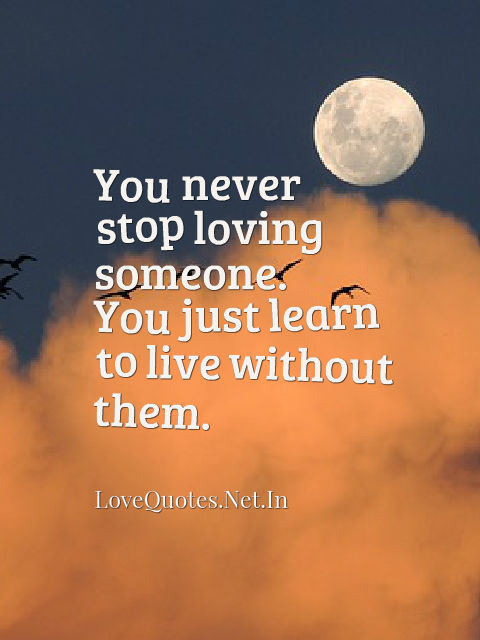 Someone asked me if I knew you, a million memories flashed through my mind, and I whispered, not anymore.
Sometimes the hardest things to let go of, are the things you never really had.
And when you are feeling lonely, look up at the moon. Somewhere, someone is staring at the same moon, feeling lonely too.
You know it's love when you've been saying good-bye for the last half-hour and, you are still not ready to leave them.
I sit and listen to everyone else love stories, and I'm thinking to myself…"Where's mine?"
If you live to be a hundred, I want to live to be a hundred minus one day, so I never have to live a day without you.
It's not up to me anymore. If you want me in your life, you'll find a way to put me there.
Loving someone who doesn't love you in return… is like trying to fly with a broken wing.
Missing someone gets easier every day because even though it's one day further from the last time you saw each other, it's one day closer to the next time you will.
Ask me why I keep on loving you when it's clear that you don't feel the same way for me… the problem is that as much as I can't force you to love me, I can't force myself to stop loving you.
Just because I'm quiet, doesn't mean I have nothing to say just because I'm shy, doesn't mean there can't be a way Just because I never let you know how I really feel, doesn't mean that "us" is something unreal.
It's crazy the way you see someone for two minutes of the day, yet they were the best two minutes of ur day, and u find yourself wanting the next 23 hours and 58 minutes to pass as quick as possible.
How do I say good-bye to someone I never really had? Why do my tears fall so endlessly for someone who was never really mine? Why is it I miss someone I was never really with? And why do I love someone whose love was never really mine?
It's hard to wait around for something that you know might never happen. but it's even harder to give up when you know it's everything you want.
Love isn't always perfect. It isn't a fairytale or a storybook. And it doesn't always come easy. Love is overcoming obstacles, facing challenges, fighting to be together, holding on and never letting go.