Love Sayings
Love isn't complicated; people are.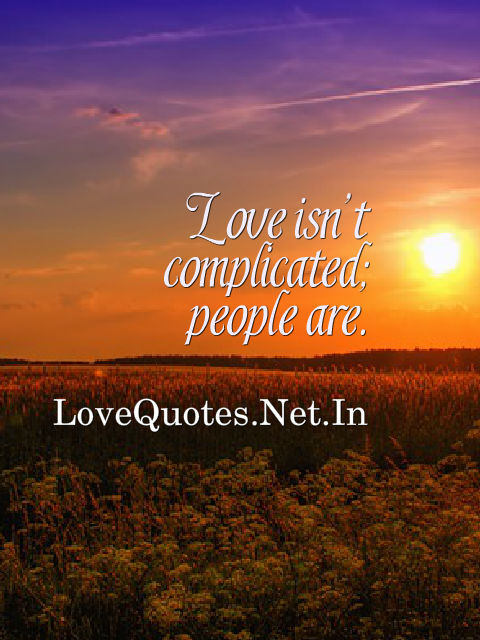 Love is the greatest refreshment in life.
If you could only love enough, you could be the most powerful person in the world.
Unless you love someone, nothing else makes any sense.
I'm in love with who I'm becoming.
The greatest thing you'll ever learn is just to love and be loved in return.
To love and be loved is to feel the sun from both sides.
Love is what you've been through with somebody.
There is no remedy for love but to love more.
I love you exactly as you are.
Technically, I'm single but my heart is taken by someone I can't call my own.
Time has no dominion over love. Love is the one thing that transcends time.
There is nothing more truly artistic than to love people.
Love is composed of a single soul inhabiting two bodies.
In every living thing there is the desire for love.
It is love alone that gives worth to all things.
True love stories never have endings.
Love weaves itself from hundreds of threads.
The love we give away is the only love we keep.
The strongest love is the love that can demonstrate its fragility.
Being deeply loved by someone gives you strength, while loving someone deeply gives you courage.
What barrier is there that love cannot break?
The only creatures that are evolved enough to convey pure love are dogs and infants.
Love is the river of life in the world.
All you need is love. Love is all you need.
Love is friendship set to music.
Where there is great love, there are always miracles.
Love is that condition in which the happiness of another person is essential to your own.
A flower cannot blossom without sunshine, and man cannot live without love.
I really just want to be warm yellow light that pours over everyone I love.
To love is to recognize yourself in another.
Only in the eyes of love you can find infinity.
When I saw you, I fell in love. And you smiled because you knew.
We waste time looking for the perfect lover, instead of creating the perfect love.
Any time not spent on love is wasted.
There is a place you can touch a woman that will drive her crazy. Her heart.
You are my heart, my life, my entire existence.
People fall in love without reason, without even wanting to. You can't predict it. That's love.
Life is the flower for which love is the honey.
Love conquers all.