Love U Quotes
You will always be the answer, when somebody asks me what I'm thinking about.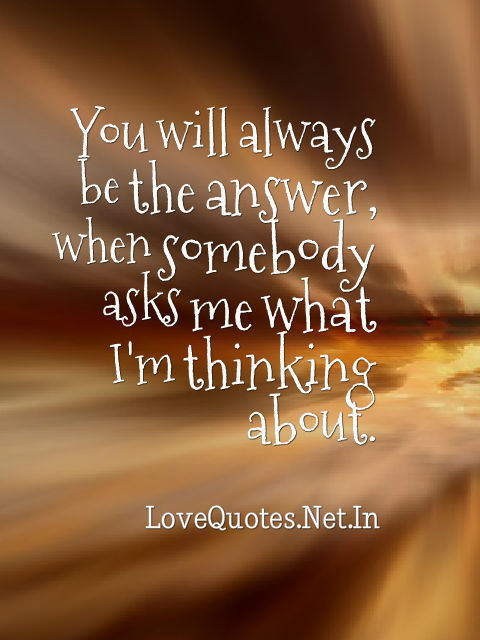 I loved you once, I love you still; I always have; I always will.
Saying I, LOVE YOU is a major decision in one's life. Those words should be kept in your heart until you're ready to commit, to fight for that feeling and to stand by those words forever.
If you love me as I love you, nothing but death can part us two.
I love you', are three words with infinite meanings, but only one feeling.
A man's love cannot be satisfied by beauty alone; you're more than beautiful, and that's why I love you!
For yesterday's memories, today's love, and tomorrow's dreams, I love you.
It's not who you are to the world; it's who you are to me. It's not how many times I say I love you… it's how much I really do.
It's not my fault. I love you; it's yours.
I love you not only for who you are, but for who I am when I am with you!
Should I hate you because you hurt me? Or should I love you because you made me feel special?
You hurt me more than I deserve, how can you be so cruel? I love you more than you deserve, why am I such a fool?
I wish I had the guts to walk away from what we had. But I can't because I know you won't come after me, and that's what hurts the most.
The more I know you, the more I love you.
The beauty of love is to look into your eyes, and see the love you feel for me, to see the way you feel and the way you care; that is why I love you.
I do not know how much I love you, but I do know how much more I wish to.
I love you not because it is right, but because I love you.
I do, cherish you, from the depths of my soul; it's beyond my control, I've waited so long, to say this to you, if you're asking do I love you this much; I do.
When you say you love me, the world stops for a moment, the stars stop shining, the moon stops glowing, the earth stops breathing, all that's alive is our love … I love you.
If I had the whole world to write on to express how much I love you, it wouldn't all fit.
Last night, I looked up at the stars and matched each one with a reason why I love you. I was doing great until I ran out of stars.