Love You Quotes
Never ask why I love you, just accept that I do, and that I will for the rest of my life.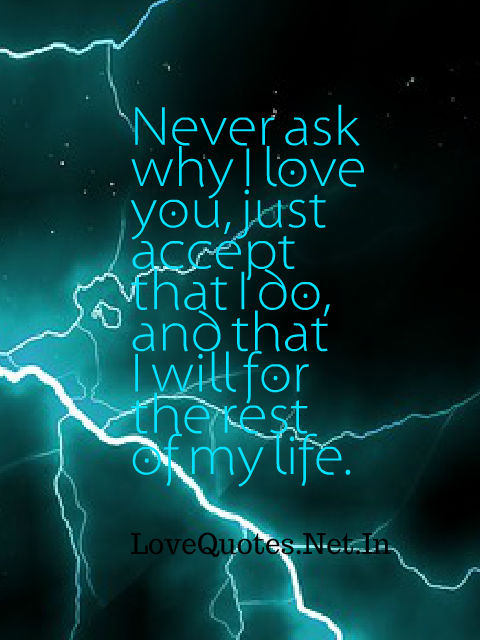 I want to be in your arms, where you hold me tight and never let me go.
If I had to choose between breathing and loving you, I would use my last breath to tell you I love you.
You really love a person when you can prove it by your behavior and not the words.
From the day, you walked into my life, your all I think about. You're the reason I breathe. You are the stars in my sky. I wouldn't want this any other way. You're the love of my life.
For once in my life, I don't have to try to BE HAPPY, when I'm with you, it just happens…
I love you in the morning, in the middle of the day, in the hours we are together, and the hours we are away…
When I tell you, I love you, I don't say it out of the habit. I say it to remind you that you are the best thing that has ever happened to me.
Every moment spent with you is like a beautiful dream come true… I Love You!
When someone says I love you watch their actions more than their words.
You have entered my heart… And You'll be here forever… I Love You!
When I looked into your eyes, I didn't see just you, I saw my today, my tomorrow, and my future for the rest of my life…I love you!!
When you say 'I love you', you are making a promise with someone else's heart. Try to honor it.
I loved you once, I love you still; I always have; I always will.
Never pass up the chance to say, "I love you," because tomorrow isn't promised.
It's not being in love that makes me happy. It's being in love with you that makes me happy.
Love is not about how much you say 'I love you', but how much you can prove that it's true love.
I love you. I am who I am because of you. You are every reason, every hope, and every dream I've ever had, and no matter what happens to us in the future, everyday we are together is the greatest day of my life. I will always be yours.
I love you. You annoy me more than I ever thought possible. But I want to spend every irritating minute with you.