Quotes On Life
What's meant to be yours will always find a way.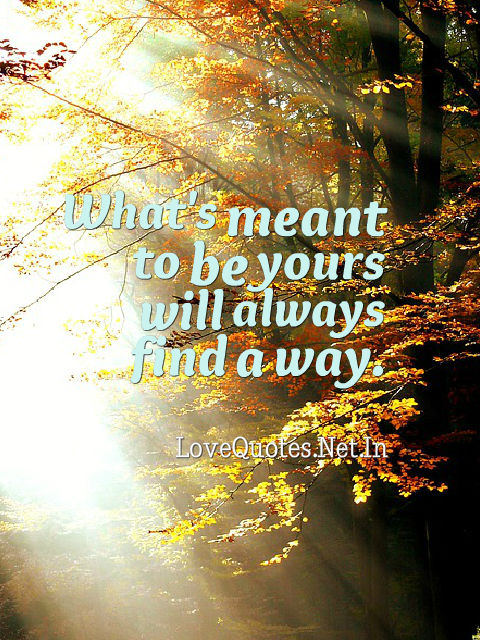 I've never been so scared of losing something in my life, then again; nothing in my life has ever meant as much to me as you do!
Love is not about finding the right person, but creating a right relationship. It's not about how much love you have in the beginning but how much love you build at the end.
Yesterday was history, Today is a gift, and Tomorrow is a mystery. Live each day as though it were your last, with the things that are truly going to last.
Life is about trusting your feelings and taking chances, losing and finding happiness, appreciating the memories, learning from the past, and realizing people change.
Life is not measured by the number of breaths we take, but by the moments that take our breath away.
You can close your eyes to things you don't want to see, but you can't close your heart to the things you don't want to feel.
Sometimes what you want isn't always what you get, but in the end, what you get is so much better than what you wanted.
If you think, my eyes are beautiful it's because they are looking at you.
Trying to forget someone you love is like trying to remember someone you never met.
If you ever doubt my love for you, just put your ear to my heart and listen, it's calling your name.
Why is it that we love the ones who ignore us and ignore the ones who love us?
Love is like a butterfly, the more you pursue it the more it eludes you, but if you are calm, and still it will land on your shoulder.
Some people believe that holding on and hanging in there are signs of strength. However, there are times in life in which it takes much more strength to just let go.
To love someone is nothing. To be loved by someone is something. To love and be loved by someone is everything.
One day you will ask me which is more important, you or my life? And I will say my life, and you will walk away not knowing that you are my life.
How can you tell the sun not to shine, when clouds exist? How can ask leaves not to fall when wind exists? How can you tell me not to fall in love when you exist?
Somewhere there's someone who dreams of your smile, and finds in your presence that life is worthwhile. So, when you are lonely remember it's true: somebody, somewhere is thinking of you.
You never lose by loving. You always lose by holding back.
No man is worth a woman's tears; the only one who is, will never make her cry.
Anyone can catch your eye, but it takes someone special to catch your heart.
Take a look at what you have. Think of all you did to get it. Remember it only takes one second to lose.
You can lose your pride to the one you love, rather than lose the one you love because of pride.