Quotes on Love
I love you not because of who you are, but because of who I am when I am with you.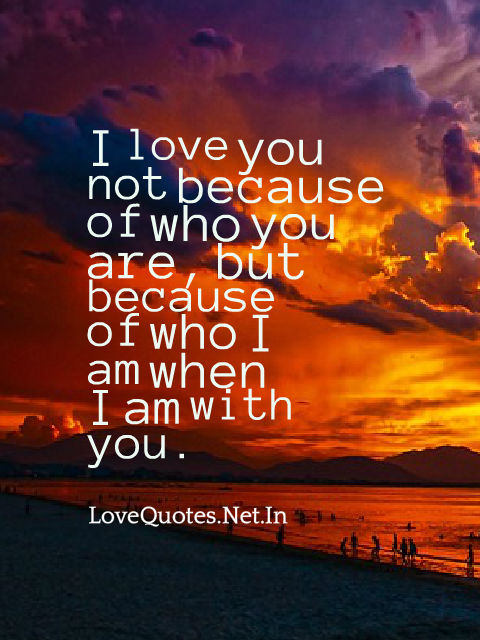 Love takes off masks that we fear we cannot live without and know we cannot live within.
Love is a friendship set to music.
Love is when you meet someone who tells you something new about yourself.
Love is a better teacher than duty.
Keep love in your heart. A life without it is like a sunless garden when the flowers are dead.
We are shaped and fashioned by what we love.
The only thing we never get enough of is love; and the only thing we never give enough of is love.
The most important thing in life is to learn how to give out love, and to let it come in.
Lots of people want to ride with you in the limo, but what you want is someone who will take the bus with you when the limo breaks down.
When we are in love, we seem to ourselves quite different from what we were before.
You know you're in love when you don't want to fall asleep because reality is finally better than your dreams.
If I know what love is, it is because of you.
Life without love is like a tree without blossoms or fruit.
The way to love anything is to realize that it may be lost.
The art of love is largely the art of persistence.
Your task is not to seek for love, but merely to seek and find all the barriers within yourself that you have built against it.
Love does not dominate; it cultivates.
At the touch of love, everyone becomes a poet.
I have decided to stick with love. Hate is too great a burden to bear.
The giving of love is an education in itself.
You know it's love when all you want is that person to be happy, even if you're not part of their happiness.
The more one judges, the less one loves.
We are most alive when we're in love.
Love is of all passions the strongest, for it attacks simultaneously the head, the heart and the senses.
A kiss is a lovely trick designed by nature to stop speech when words become superfluous.
The love we give away is the only love we keep.
Being deeply loved by someone gives you strength, while loving someone deeply gives you courage.
The best and most beautiful things in this world cannot be seen or even heard, but must be felt with the heart.
Love yourself first and everything else falls into line. You really have to love yourself to get anything done in this world.