Romantic Status
When you look at me, when you think of me, I am in paradise.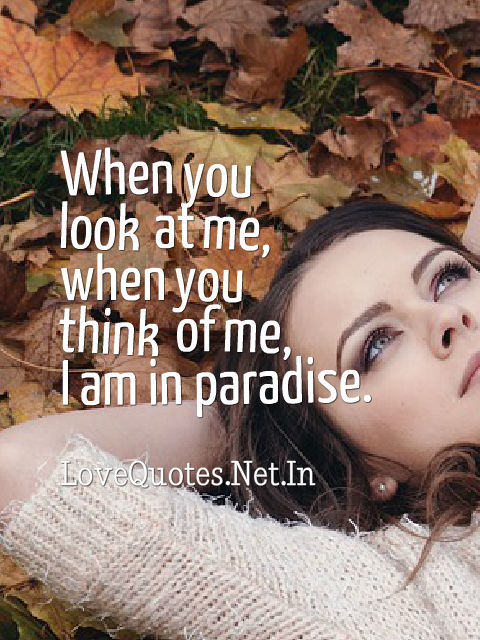 I am in you and you in me, mutual in divine love.
Love = a form of amnesia when a girl forgets that there are 1.2 billion other boys in the world.
What matters most to me is you. I live to make you happy.
We are tangled, knotted, locked, and tied to each other forever.
I love you the more in that I believe you had liked me for my own sake and for nothing else.
Kiss me and you will see how important I am.
You are the one for me. I have never been so sure of anything in all my life.
The real lover is the man who can thrill you just by touching your head or smiling into your eyes – or just by staring into space.
We are each of us angels with only one wing, and we can only fly by embracing one another.
Have enough courage to trust love one more time and always one more time.
I love you more than my own skin.
I'll catch every star for you. I'll cross every ocean for you. I will die for you.
All the windows of my heart I open to the day.
Of all the music that reached farthest into heaven, it is the beating of a loving heart.
The sound of a kiss is not so loud as that of a cannon, but its echo lasts a great deal longer.
Thank you for giving me the most wonderful years and the most beautiful life.
One day, you're going to wake up and notice that you should have tried. I was worth the fight.
There is nothing I wouldn't do to make you mine forever.
Love recognizes no barriers. It jumps hurdles, leap's fences, penetrates walls to arrive at its destination full of hope.
Your voice is music to my ears; your smile is beauty to my eyes.
Believing that you are mine forever is what makes me get up in the mornings.
Not so long ago I was alone and lost, and then you came along, and I was home. Thank you for finding me.
You may not be perfect; you are flawed like all humans. But you are perfect for me, and those're all that matters.
Missing someone is your heart's way of reminding you that you love them.
True love stories never have endings.
Wait for the boy who would do anything to be your everything.
When I walk with you, I feel as if I had a flower in my buttonhole.
Nothing that's worthwhile is ever easy. Remember that.
Nobody is too old for fairy tales.
If you are not too long, I will wait here for you all my life.
My dearly beloved if I am to die today and never see the sweet face of you. I want you to know that I am no great man and am lucky to have such a woman as you.