I Love You So Much
I love you so much. Don't think that your efforts are worthless! I appreciate all your sacrifices. I'm so lucky because I have you in my life.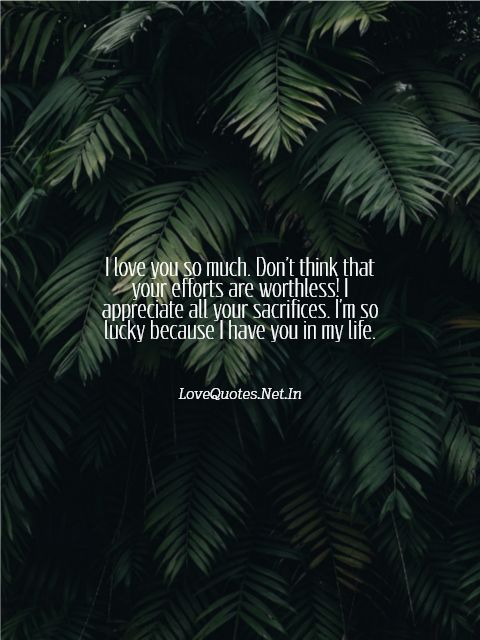 Dreams do come true, because when I met you my dreams came true.
An ideal boyfriend is not based on his looks, it's in his desire to make you happy.
Love can't be seen nor heard but can be felt by anybody.
When a woman falls in love, she will do anything for the one she loves.
I don't want to fall for you because I'm afraid that you will not catch me.
You're the best thing that ever happened in my whole life. I'm grateful that God sent you to be my best friend, my boyfriend, my lover, my husband, my everything. I love so much.
I am just so happy I found a guy like you. Thank you for staying with me and understanding me. I will never let you go.
I thank God for giving you to me.We may fight, but it helps keep our relationship strong. I may act childish sometimes but you always understand me. That's what I love most about you.
A real man is not measured on how he talks and moves. A real man is measured on how he respects and takes care of his woman.
Don't waste my love for you. I've wasted the love of others for me just to love you.
A true man will not give up so easily on a relationship. He will find a way to solve the problem.
Love all the bad and wrongs in him first before you love the good in him
Thanks for taking care of me, giving me advice, listening in me always. I know there are no words to explain how lucky I am to have you. You're one of a kind. I love you!!
If you can't be a pen to write my happiness, can you at least be an eraser to erase my sadness?
A lot of girls are not perfect, but it doesn't mean you should hurt them.
I know how to make you happy even though I don't practice, but I would never cheat on you even if I knew how.
If you trust me, I promise you I won't ever let go.
Please, don't be too friendly to me… Don't be too sweet… You are just making me fall.
A real woman doesn't need much attention. Respect is enough.
I love you and that will never change, you will always be in my heart now and forever.
I will never get tired of loving you and I hope you don't too.
Girls are really not hard to get, they are just testing how serious you are.
You both want to be in a relationship so you both have to fight for it!