Love is an Energy
Love is an energy which exists of itself. It is its own value.
– Thornton Wilder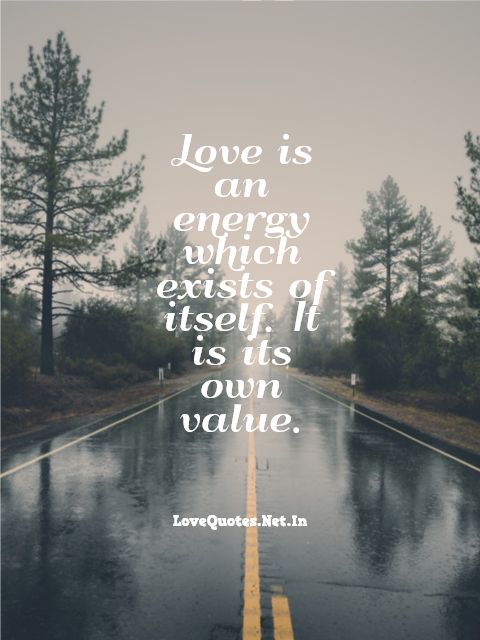 People who throw kisses are hopelessly lazy.
– Bob Hope
There is no limit to the power of loving.
– John Morton
Love all, trust a few, do wrong to none.
– William Shakespeare
When you arise in the morning, think of what a precious privilege it is to be alive – to breathe, to think, to enjoy, to love.
– Marcus Aurelius
No, there's nothing half so sweet in life as love's young dream.
– Thomas Moore
Oh, love will make a dog howl in rhyme.
– Francis Beaumont
The deep joy we take in the company of people with whom we have just recently fallen in love is undisguisable.
– John Cheever
The love of family and the admiration of friends is much more important than wealth and privilege.
– Charles Kuralt
Life is a song – sing it. Life is a game – play it. Life is a challenge – meet it. Life is a dream – realize it. Life is a sacrifice – offer it. Life is love – enjoy it.
– Sai Baba
If you love life, don't waste time, for time is what life is made up of.
– Bruce Lee
Only divine love bestows the keys of knowledge.
– Arthur Rimbaud
Is it not by love alone that we succeed in penetrating to the very essence of being?
– Igor Stravinsky
My great hope is to laugh as much as I cry; to get my work done and try to love somebody and have the courage to accept the love in return.
– Maya Angelou
Darkness cannot drive out darkness; only light can do that. Hate cannot drive out hate; only love can do that.
– Martin Luther King, Jr.
Love recognizes no barriers. It jumps hurdles, leaps fences, penetrates walls to arrive at its destination full of hope.
– Maya Angelou
I love those who can smile in trouble, who can gather strength from distress, and grow brave by reflection. 'Tis the business of little minds to shrink, but they whose heart is firm, and whose conscience approves their conduct, will pursue their principles unto death.
– Leonardo da Vinci
I am good, but not an angel. I do sin, but I am not the devil. I am just a small girl in a big world trying to find someone to love.
– Marilyn Monroe
Follow love and it will flee, flee love and it will follow thee.
– John Gay
Love is the only force capable of transforming an enemy into friend.
– Martin Luther King, Jr.
There is only one happiness in this life, to love and be loved.
– George Sand
But I say to you, Love your enemies and pray for those who persecute you, so that you may be sons of your Father who is in heaven; for he makes his sun rise on the evil and on the good, and sends rain on the just and on the unjust.
– Jesus Christ
I say what I want to say and do what I want to do. There's no in between. People will either love you for it or hate you for it.
– Eminem
Choose a job you love, and you will never have to work a day in your life.
– Confucius