Real Friendship
Real friendship, like real poetry, is extremely rare – and precious as a pearl.
– Tahar Ben Jelloun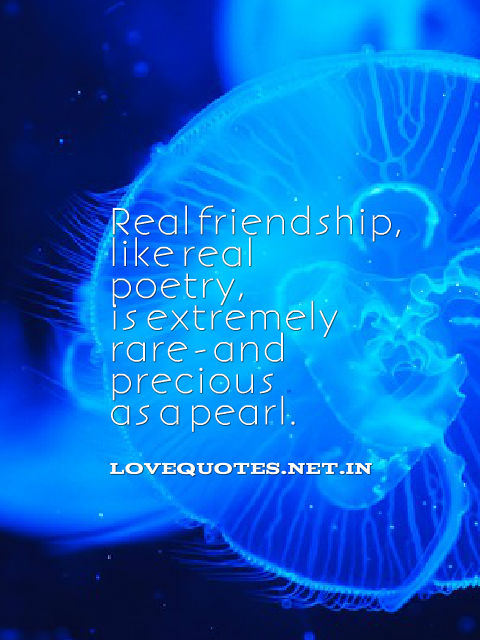 Only solitary men know the full joys of friendship. Others have their family; but to a solitary and an exile his friends are everything.
– Warren G. Harding
There is something in the unselfish and self-sacrificing love of a brute, which goes directly to the heart of him who has had frequent occasion to test the paltry friendship and gossamer fidelity of mere Man.
– Edgar Allan Poe
Remember that a gesture of friendship, no matter how small, is always appreciated.
– H. Jackson Brown, Jr.
The essence of true friendship is to make allowance for another's little lapses.
– David Storey
Love and friendship exclude each other.
– Jean de la Bruyere
Friendship is a sheltering tree.
– Samuel Taylor Coleridge
Many a friendship, long, loyal, and self-sacrificing, rested at first on no thicker a foundation than a kind word.
– Frederick William Faber
Friendship, like the immortality of the soul, is too good to be believed.
– Ralph Waldo Emerson
Friendship is two-sided. It isn't a friend just because someone's doing something nice for you. That's a nice person. There's friendship when you do for each other. It's like marriage – it's two-sided.
– John Wooden
The rule of friendship means there should be mutual sympathy between them, each supplying what the other lacks and trying to benefit the other, always using friendly and sincere words.
– Marcus Tullius Cicero
Love is friendship set on fire.
– Jeremy Taylor
Friendship is essentially a partnership.
– Aristotle
Of all the things which wisdom provides to make us entirely happy, much the greatest is the possession of friendship.
– Epicurus
I want to know what it is to build the foundation of the friendship for real, to have my best friend and not because we're just intimate, but because we're mentally intimate. So I'm waiting for that person to come into my life.
– LisaRaye McCoy-Misick
Every friendship goes through ups and downs. Dysfunctional patterns set in; external situations cause internal friction; you grow apart and then bounce back together.
– Mariella Frostrup
No matter what message you are about to deliver somewhere, whether it is holding out a hand of friendship, or making clear that you disapprove of something, is the fact that the person sitting across the table is a human being, so the goal is to always establish common ground.
– Madeleine Albright
Don't flatter yourselves that friendship authorizes you to say disagreeable things to your intimates. On the contrary, the nearer you come into relation with a person, the more necessary do tact and courtesy become.
– Oliver Wendell Holmes, Sr.
Friendships are the family we make – not the one we inherit. I've always been someone to whom friendship, elective affinities, is as important as family.
– Salman Rushdie
On the relationship side, if you teach people to respond actively and constructively when someone they care about has a victory, it increases love and friendship and decreases the probability of depression.
– Martin Seligman
I force people to have coffee with me, just because I don't trust that a friendship can be maintained without any other senses besides a computer or cellphone screen.
– John Cusack
People are roasting each other at parties, at work events, around the fire. It's so fun. People are busting each other's chops, and it's a sign of affection, truly. It's a true test of love and friendship: can you make a man laugh at himself? So what makes a good burn? Go after targets you love and respect. And hit 'em hard.
– Jeff Ross
I think romance is friendship and attraction sort of meeting together and that does influence what I'm writing a lot. I try to establish the attraction, obviously, but I also think it's important to show the characters having actual conversations about things other than their feelings for each other – and to develop their friendship on the page.
– Veronica Roth
I had a friend where it turned out that she hated my guts, all through our friendship. I thought she was my best friend, and then, in high school, she turned on me and had sordid affairs with all of the people that I'd dated. It was less hurtful because I was in high school, so it was more like, 'What's wrong with you? Gross!'
– Mae Whitman