Single Status
There are some places in life where you can only go alone. Embrace the beauty of your solo journey.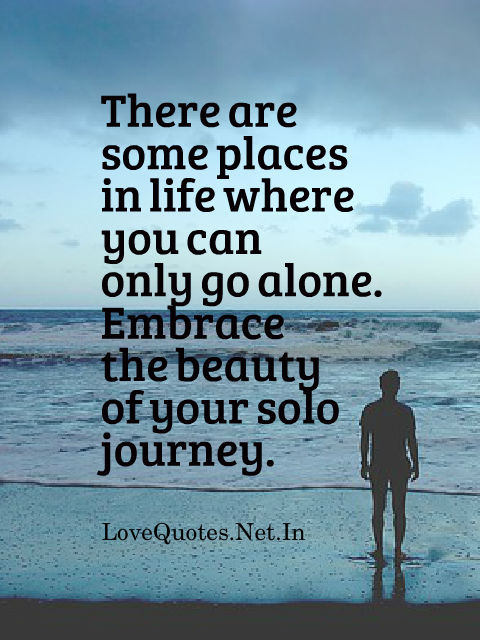 Mistake is a single page of life but relation is a complete book. So don't lose a full book for a single page.
Love is not about how many days, months, or years you have been together. Love is about how much you love each other every single day.
Single but definitely not alone.
Single is no longer a lack of options – but a choice.
The trouble is not that I am single and likely to stay single, but that I am lonely and likely to stay lonely.
Single is an opportunity to live life on your own terms and not apologize.
Hope for love, pray for love, wish for love, dream for love…but don't put your life on hold waiting for love.
Being single doesn't mean you're not too good to be with the right one, it means you're just too good to be with the wrong one.
If you truly want to be respected by people you love, you must prove to them that you can survive without them.
Being single doesn't mean that you know nothing about love. Sometimes being solo is wiser than being in a false relationship.
Always remember that you were once alone, and the crowds you see in your life today are just as unnecessary as when you were alone.
I like being single. I'm always there when I need me.
If you are not happy being single, you will never be happy in a relationship. Get your own life first, then share it.
It is better to lock up your heart with a merciless padlock, than to fall in love with someone who doesn't know what they mean to you.
Living single and committed with no one is the tensionless life nowadays.
Being single doesn't mean you're weak, It means you're strong enough to wait for what you deserve.
If you can't stay loyal, stay single.
Single is not a status. It is a word that best describes a person who is strong enough to live and enjoy life without depending on others.
Yeah, I'm single, but you're gonna have to be amazing to change that.
I'm not single. I'm not taken. I'm simple on reserve for the one who deserves my heart.
Sometimes it's better to be alone cause no one can hurt you that way.
Sometimes you have to stand alone to prove that you can still stand.
Being single is about celebrating and appreciating your own space that you're in.
I'm single, but I know exactly who I want.
I'm perfectly happy being single…Until I see a happy couple.
I'm not single; I'm in a long-term relationship with adventure and fun.
Not single. Not taken. Just waiting for something real.
Technically, I'm single. but my heart is taken by someone I can't call my own.
A broken relationship would make you feel more lonely than when you were single.
If you're single, focus on being a better you instead of looking for someone better than your ex. A better you will attract a better next.